Flexible Installation Tape
F.I.T. provides a simple, cost-effective and functional solution to your problems with routing and protecting cables. F.I.T. can be individually adapted to your requirements and used as an alternative or in combination with traditional cable fixtures (e.g. tape, spiral hoses, cable ties, shrink tubing and similar products).
Our F.I.T. solutions provide the following benefits:
different long-lasting materials
different colour options
capable of being labelled
easy to fasten with standard components
simple to install
simple to stack
easy to transport
modular structure
suitable for narrow installation spaces
customer-specific design

F.I.T. Innovation = New possibilities = More freedom for design
F.I.T. design flexibility
F.I.T. is ideal for using available installation spaces and for safely routing the required number of cables without placing an excessive load on these.

Our innovative low-cost F.I.T. cable carriers help our customers master their design challenges and give them the required flexibility through simple construction and mounting.
F.I.T. solutions
are light
are made from different materials and are in different colours
are predominantly manufactured as one piece
are flexible for taking account of mounting points
are prepared for using your standard fastening elements
enable simple shipping, handling and mounting
can also be manufactured in series in standard sizes
can easily be adapted to your application and still remain cost effective
F.I.T. prevents you having to purchase lots of different products from different suppliers – F.I.T. combines cable protection and cable carrying in one product.

Our design solutions are adapted to our customers' installation spaces and can be mounted in the shortest time possible.

F.I.T. provides an elegant functional cable carrier system which can supplement or replace the following products:
binding from wrapping tape/adhesive tape
cable hoses
zipper products
spiral hoses
shrink tubing
Velcro
cable ducts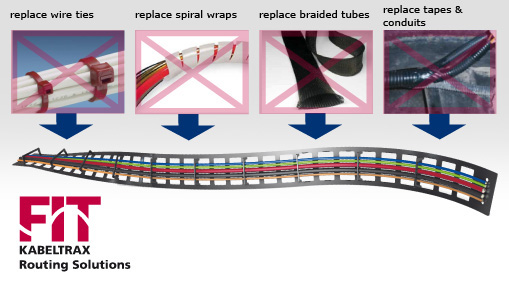 TSUBAKI KABELSCHLEPP GmbH
Daimlerstraße 2
D-57482 Wenden-Gerlingen
Fon: +49 2762 4003-300
Fax: +49 2762 4003-40300
info@kabeltrax.de